01/07/14
One of the customs I grew up with was the blessing of homes during the Epiphany season. Kolendy, Polish for caroling, was an Epiphany tradition. Led by a star we would go from house to house, singing carols. At each house we would stop, the priest would say a blessing and then chalk the doorway with the following inscription:
20 + C + M + B + 14
for the current year and the initials of the three wise men, traditionally Casper, Melchior and Balthazar, although they are not named in scripture. (Some folks note that "C M B" can also stand for "Christus Mansionem Benedicat," which means "May Christ bless this dwelling.")
The house was the sprinkled with holy water.
It is a lovely custom which I invite you to use. I offer this prayer from the Book of Occasional Services:
Visit, O Blessed Lord, this home with the gladness of your presence
bless all who live here with the gift of your love
and grant that they manifest your love
[to each other and] to all whose lives they touch.
May they grow in grace and in the knowledge of you;
guide, comfort and strengthen them
and preserve them in peace, O Jesus Christ
now and forever. Amen
Happy Epiphany
12/16/13
Where will you lead me, Lord
as we walk through this town today?
Who will stop and talk for a while
weighed down by uncertainties or fear?
Who will need a shoulder to lean on
a willing and patient ear?
Who will need a reassuring hand
or the comfort of a prayer?
Who will need to know a love
that is simply beyond compare ?
Who will you touch this day
through my words or by my care?
Where will you lead me, Lord
as we walk through this town today?
.
©John Birch: http://www.facebook.com/faithandworship
12/04/13
My daughter Sarah and her husband Christian moved from Durham to Manhattan last December. After a year in the city, they moved to Milburn/Short Hills this week. So we took advantage of their proximity to Central Park and descended on their apartment on Riverside Boulevard on Thanksgiving Eve.
Bekah, my oldest daughter was up from North Carolina. Chris and Cori along with our grands: Ella, Lisie, and Drew came up from Harrisburg. I am sure we broke some rule or another as we all camped out overnight in Sarah and Christian's one bedroom 700 square foot apartment.
The weather forecast for Thanksgiving Morning called for cold and windy conditions. We chose not to follow all the advice and get to the parade route at 6 am. Instead we left a bit after 8 t in order to get to West Central Park as close to the start of the parade as possible. This was a first for me so I had no idea what to expect. All the articles I read indicated huge crowds.
We bundled the kids and ourselves up in multiple layers and braced for the cold. When we stepped out of the apartment, the wind was brutal coming in off the Hudson. Walking up 66th Street was not much better–at least the wind was at our back. This might not be so fun I think to myself! We are nuts!
As we came around the corner at 66th and West Park, much to my surprise the crowds were not that bad. Just three deep. I might actually be able to see something. And the sun was shining. The wind had died down or was blocked by the buildings. This is not going to be that bad, I thought as I started to unzip my layers of clothing–feeling a bit warm actually.
Soon the parade would begin. The person in front of me was checking progress on his phone. Elle and Lisie each found ready shoulders to perch upon–parents, aunts and uncle, Dziadziu.
Up close, everything looks so different than on TV. Since there was fear of wind all the balloons were flying low, just above the short tree tops, patches and faded colors clearly visible on some of the older balloons. After several floats go by with "celebrities" I was clueless about, I realized–I am getting old.
After several near balloon and tree encounters, I noticed Lisie, our four year old granddaughter would wince every time a balloon would go by. Was it the size that was overwhelming her? The balloons were BIG. Through her eyes they must have been enormous and maybe they were scaring her. Finally she said–Dziadziu, will they pop? It wasn't they size that was scaring her–it was that giant balloon exploding right in front of her that was frightening. I reassured her and she settled into enjoying the rest of the parade, especially the arrival of Santa.
Strange, isn't it, how the world appears through a child's eyes!
Have a blessed Advent
Julian
11/25/13
Over the past couple months I have attempted to be more mindful on my daily walk with Skye, our golden retriever. In order to gain the most benefit from our walk I am mindful of both the distance we walk and the pace. My goal is to walk, not meander, 7000-8000 steps, which is 3-4 miles. On bitter cold days, like the last two, I fell far short of my goal.
I also am mindful and aware of my surroundings. I try to make my walk a spiritual discipline–a way to encounter the holy in the everyday. And this is where the blessing came.
The other day as we were walking down the bike path, I noticed two figures in the distance. As we got closer, I noticed it was an adult and child. Closer still I noticed it was a grandmother and her granddaughter. As we were ready to pass, I noticed the grandmother was inching closer to us rather than moving away. I slowed down to say hello. She asked if Skye was friendly and if she and her granddaughter could pet her. I said certainly. And Skye, who loves being petted and have her ears scratched and her belly rubbed could not have been happier–her tail wagging and doing a doggie happy dance that retrievers seem to be uniquely gifted at.
While this was going on the grandmother and I were chatting when she noticed my collar.
"Are you a minister or a priest?" she asked
"I am an Episcopal priest" I answered.
We chatted some more.
"Will you bless me, my granddaughter and her dad?"
"I would be glad to" I answered.
We chatted some more. She tells me she tries to teach her granddaughter about Jesus. Her dad, who she describes as a good man, does not believe. This clearly troubled her. I tried as best I could to reassure her in the brief moments we had of Jesus love. I laid my hands in blessing upon, her granddaughter and by extension her son (or son in law–never quite clear about the relationship). We prayed. And there, on the bike path I have walked hundreds of times, we stood on holy ground.
Where will the blessing on the way happen for you today? Where will you be on holy ground in the midst of the ordinary?
I pray God's blessing upon your path this day.
11/18/13
I am often asked how can we create more balance when it comes to the celebration of Christmas.
A couple years ago I was introduced to a movement with the greater church called "The Advent Conspiracy". The Advent Conspiracy started in 2006 with the pastors of three churches– Imago Dei Community in Portland, OR; The Crossing in St. Louis, MO; and Ecclesia in Houston, TX. It is based on four principles: Worship Fully, Spend Less, Give More and Love All. In the past seven years the movements involves thousands of churches.
In their own words:
We all want our Christmas to be a lot of things. Full of joy. Memories. Happiness. Above all, we want it to be about Jesus. What we don't want is stress. Or debt. Or feeling like we "missed the moment". Advent Conspiracy is a movement designed to help us all slow down and experience a Christmas worth remembering. But doing this means doing things a little differently. A little creatively.
It means turning Christmas upside down.
WORSHIP FULLY
Christmas marks the moment where God's promise was fulfilled and love took form, tiny fingers and all. It is a moment that deserves our full attention and praise. We put Worship Fully as AC's first tenet because we believe the level of our involvement at Christmas is based entirely on how much we are celebrating Christ's birth. He deserves celebration; one that is creative, loud and directs every heart His way.

SPEND LESS
Quick question for you: What was the one gift you remember getting for Christmas last year? Next question: What about the fourth gift? Do you remember that one? Truth is many of us don't because it wasn't something we necessarily wanted or needed. Spending Less isn't a call to stop giving gifts; it's a call to stop spending money on gifts we won't remember in less than a year. America spends around $450 billion dollars during the Christmas season, and much of that goes right onto a credit card. By spending wisely on gifts we free ourselves from the anxiety associated with debt so we can take in the season with a full heart.

GIVE MORE
We know what you're thinking. "Wait, didn't they just say I should spend less, and yet here they are telling me to give more? What gives?" The most powerful, memorable gift you can give to someone else is yourself. And nobody modeled this more than Jesus. So what does this look like for you? Tickets to a ball game or the theater? A movie night? The main point is simple: When it comes to spending time with those you love, it's all about quality, not quantity.

LOVE ALL
It all boils down to love. Love from a savior. Love to a neighbor in need. By spending just a little less on gifts we free up our resources to love as Jesus loves by giving to those who really need help. This is the conspiracy three churches began a few years ago, and has since grown to an international movement where thousands of churches have raised millions of dollars to love others in life-changing ways.
For more information, I invite you to check out their website: www.adventconspiracy.org/
11/11/13
"At the 11th hour on the 11th day of the 11th month" World War 1—the war to end all wars came to an end. November 11 was officially designated as Armistice day or Remembrance Day, a day to remember lives lost in that bloody conflict.
Growing up in England, we wore a red poppy. The red poppy was made popular by the poem On Flanders Field
It grew in some of the worst battlefields of France. It's brilliant red color was an appropriate symbol of blood spilled. To this day throughout the British Commonwealth people wear red poppies in remembrance of those who paid the ultimate price in war.
In 1954 Armistice Day was changed to Veterans Day in the US to honor those soldiers who served in the Korean War.
So take a moment today to offer thanks to those who have answered the call to serve. Pray for healing for those injured in body or spirit. And remember all who have died in war, soldier and civilian, ally or enemy—each precious in God's eyes and beloved.
For Heroic Service

O Judge of the nations, we remember before you with grateful hearts the men and women of our country who in the day of decision ventured much for the liberties we now enjoy. Grant that we may not rest until all the people of this land share the benefits of true freedom and gladly accept its disciplines. This we ask in the Name of Jesus Christ our Lord. Amen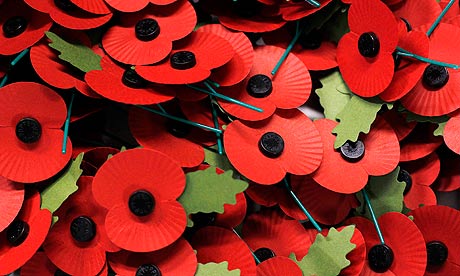 11/04/13
When I was in high school, I lived with my Aunt Pola and Uncle Raymond in the old rectory at Saint Mary's Catholic Church in Petersville, Maryland. St. Mary's was established as the sister chapel to St. Mark's Episcopal Church by the Lee family of Maryland. Thomas Diggs Lee was an early Governor of Maryland and an Episcopalian. His wife, Mary Gouvenuer was Catholic, hence the two churches.
Being an old church there was a cemetery and I would often walk through the graveyard, reading the tombstones. This was not a cemetery with ostentatious monuments. A simple tombstone marked the Lees gravesite—weatherworn over the centuries. In the back were hand hewn slabs of concrete marking the graves of former slaves. And beyond the boundary, in unconsecrated ground lay those known to God alone who did not die in the state of grace and could not be buried at the time in sacred ground.
All Souls Day, November 2 is the day when the church remembers all the departed and Saint Mary's cemetery gives as a snippet of the communion of saints—the beloved of God. Whether Maryland society, the movers and shakers, or the oppressed slave or the unknown and forgotten—all are the beloved of God and precious in God's sight.
As we paused to remember yesterday and I silently named my loved ones I realized how long that list has become. With Irena passing this summer, that I am now the last of my generation.
If I were to walk through St. Mary's today, added to those grave is grave of my mother, next to her my aunt Pola and uncle Raymond. Maybe some day that will be my final resting place. The gravestone indicates my dad was buried there also. However he remarried and is buried in Hollywood Florida. My sisters—Krystina and Irena are buried across the lane from each other in Holy Cross cemetery in Calumet City, Illinois. My maternal grandmother Helena is an unmarked grave at Treblinka and her husband Henryk in the Jewish cemetery in Wlodislawek; my paternal grandfather in an unmarked grave in the Ukraine and his wife somewhere in Poland along with my Aunts Amelia. Marysia and Emilia, My uncle Joseph gravesite is unknown, my uncle Julian is buried in Lwow, My grandfather , Poland; my cousins Juleczek and Rysio in Tehran. They are scattered to the four winds—yet!
As we celebrate All Souls Day, we are reminded that God's beloved who are with God . And even when our voice will no longer be able to name them on earth, they will not be forgotten for their names have been written in the Book of Life. They are in the beautiful city that God has promised us and the angels in heaven sing Alleluia!
Let us pray:
O God, the Maker and Redeemer of all believers: Grant to the faithful departed the unsearchable benefits of the passion of your Son; that on the day of his appearing they may be manifested as your children; through Jesus Christ our Lord, who lives and reigns with you and the Holy Spirit, one God, now and ever. Amen
10/28/13
Have you ever wondered where Halloween come from?
The origins trace back to Celtic Ireland and the feast of Samhain (pronounced /ˈsɑːwɪn/ SAH-win or /ˈsaʊ.ɪn/ SOW-in ) which marked the end of the harvest season and the beginning of the winter, a season of growing darkness and, if you rely upon the earth or livestock for sustenance, a time of scarcity. A good harvest will assure that you have enough to make it through the winter months and early spring until the time of the first harvest.
Samhain was celebrated from sunset on October 31 to sunset on November 1. Bonfires were lit in the darkened night. Because people believed the spirits of the dead would visit this night, feasts were celebrated,—a extra place at the table was reserved for the souls of the dead. People went door to door in disguise, reciting verses in exchange for food. The disguise was meant to either imitate or distinguish oneself from the spirits or fairies who roamed more freely on this night.
St Patrick, along with the other Celtic Saints ,was a wonderful bridge builder. He saw in this festival common ground to tell the Christian story. With the themes of life and death, light amid darkness, the spirits of the dead, thin places there heaven and earth are close—each of these seemed a natural jumping of point to tell the story of the saints and martyrs, of Jesus and the resurrection , of each Christian being a point of light in a darkened world and of the "great harvest" of all these witnesses to transformed life. In Patrick's imagination November 1 was the perfect day to remember "all the saints"
November 1, All Saints Day, became an official Holy Day in the church in the 9th century. It was followed by All Souls Day, when we commemorate all the faithful departed, on November 2. On the night before the feast of all saints—All Hallows Eve—there were often festivities. And so we have the beginnings of Hallow-een.
Today Halloween is a fun day for children (and some adults). Do you see the similarities between the Celtic celebration and modern day Halloween? Children often times get dressed up as their favorite heroes—can this become a bridge to talk about the heroes of our faith?
So I invite you to have safe and fun All Hallows Eve. Come to church in costume (disguise) on Sunday as we celebrated All Saints (Adults too). Join us Wednesday evening for a Celtic Eucharist for Samhain as I anticipate the feast of All Saints and All Souls.
(Some background material for this morning's musings comes from Wikipedia)
10/23/13
When I was a priest at the Church of the Transfiguration, Braddock Heights Maryland in the 1990's a regular practice that I and most of my colleagues had was to simply stop by Frederick Memorial Hospital whenever we had time or where in town. When I walked into the hospital there was a clergy desk and a notebook that listed not only every Episcopalian in the hospital, but non affiliated patients as well. And I would visit first my parishioners, then depending on how much time I had I would visit other Episcopalians and non affiliated patients. It was not uncommon for folks to be visited by several priests, in addition to their pastor during their stay.
That was the norm for the first half of my ordained life and we all did it. HIPPA changed all that.
Contrast that to an experience at Valley Hospital this past summer. I was aware of two parishioners in the hospital because I was notified by family members. I was able to visit one parishioner but the other was already discharged. As I was leaving, I ran into the chaplain . We visited for a bit and he walked me through the patient computer located outside the chaplain's office. St John's has a code which enables me to look up St John's parishioners who are in the hospital. Neither person was in their system. Hospital stays are anxiety producing. And often the last thing on our minds is putting our parish on the admission form. Furthermore, the introductory letter for parish priests from Valley explicitly states per HIPPA rules priests can visit their parishioners only.
This is the new normal. And Valley is a hospital that goes out of its way to make it easier for parish priests to perform this vital ministry.
I personally treasure the opportunity to visit and pray with parishioners. The Book of Common Prayer and supplemental books such as Enriching or Worship offer such rich resources for these times. And sacramental anointing and laying of hands are sources of comfort and strength.
Given the new normal, I had to adapt my practice and need your help more than ever to continue this vital ministry. There are two simple actions to can take. If you are going into the hospital, make sure the church is notified by you or a family member. Also on the admission form, if you have the opportunity , please indicate that you are a member of St. John's Episcopal Church, Ramsey
For my part, I am delighted to make the visit.
10/14/13
Do you ever linger?
At a recent clergy day, a colleague suggest we engage is a practice of lingering. She suggested when she goes to walk her dog. She will intentionally linger.
To linger is to pause—to notice —to pay attention—to slow down—intentionally.
How often do we rush around—and then wonder why we feel so exhausted.
And in our rushing, everything becomes a blur. And we do not notice the little things all about us.
So the next time I take Skye for a walk I will linger. And maybe I will notice the blue jay and the wholly caterpillar, the hues of changing leaves and the rustle of bunny rabbits in the bushes. Maybe I will the faces of my fellow walkers and pause to say good day. Maybe I will see my neighborhood with fresh eyes and see the delight of God all around me.
So I invite is all to linger and in lingering see!
10/07/13
I just don't feel spiritually fed. Ever said that, thought that, experienced that. My guess is you have. You come to church and nothing seems to click. Music that made your soul sing, seem flat at best. The prayers that nourished your soul-empty. The sermon you long to inspire you—is off. Nothing clicks.
I find that when I am in one of those spaces I need to remind myself that feeding my soul is not just up to what I/we do. It is easy to forget that Jesus feeds us. All I need to do is come , stretch out my hand a receive.
Of course, I am talking about communion. Communion does not depend on our agency but on God's. I can be in a funk, the music awful, the sermon boring, the prayers rote. Yet I will be fed—my soul will be nourished.
Jesus said: "I am the bread of life; whoever comes to me will never hunger, and whoever believes in me will never thirst" and …"for my flesh is food indeed, and my blood is drink indeed. He who eats my flesh and drinks my blood abides in me, and I in him"
Each of the post communion prayers in the prayer book, both in Rite 1 and Rite 2 remind us God has "fed us with spiritual food in the sacrament".
Sometimes I feel empty and that nothing clicks.
And I remember: stretch and receive
09/30/13
As I write this, bagpipes are playing " Going Home" in our church parking lot. Our town gathers for the second time to welcome home a child whose life was cut short in war. Army Staff Sgt. Timothy McGill is described as a gentle giant.
I pray for his family and for all who mourn his death.
I pray for our town as it grieves.
And I pray for peace.
At noon our church bells will toll in his honor.
I invite into a moment of silence as you receive this email.
Rest Eternal grant to him O Lord
and may light perpetual shine upon him
Into paradise may the angels lead you.
At your coming may the martyrs receive you
and bring you into the holy city Jerusalem. Amen
09/23/13
Happy New Year!
Seems strange to say it. Whereas the calendar year begins on January 1st amid the parties and the revelry at Times Square , the world watching as the ball drops and we join in the countdown of final seconds of the old year. And whereas the church year begins on the first Sunday of Advent on a hopeful note with prophets dreams of dawning days, of first and second comings and the wonder of it all. Still each year at this time, it feels to me like yet another new beginning as the slow pace and warm humid days of summer give way to fall. This is the season when children return to school, the temperatures become more pleasant and the multiple hues of fall replace the greens and browns of summer and the pace of life quickens. Calendars begin to fill with the resumption of school and sports and meetings and work.
The respite is over!
I have to admit, that I am always taken a bit by surprise even though by now I am used to the change, it still catches me off guard. Calendars that had lots of available time, now are full with the normal return of parish and diocesan meetings, rummage sales and ordinations.
I love the new energy I feel. New energy from the resumption of life. New energy as we looks forward to the holy work that is placed before us of renewing our church. New energy from our youth sharing their excitement of their mission trip this summer—of new friendships formed and ministry accomplished. New energy of the excitement of our children as they return to church school and the smiles on their parents as they share the treasures they created.
New beginnings are everywhere.
Happy New Year and a wonderful monday!